February 24, 2021
The following are the Tryout Groups and Times for the weeks of March 5 and 12.  It is very important you attend both your Clubhouse and Dome tryouts.  We understand certain circumstances may arrises and only attending one is possible if this is the case you must  contact Chad Fredkove or Brad Adams to get prior approval.  Masks will be required during tryouts.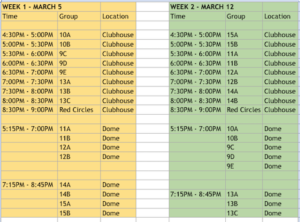 | | | | | | | |
| --- | --- | --- | --- | --- | --- | --- |
| WEEK 1 – MARCH 5 | | | | WEEK 2 – MARCH 12 | | |
| Time | Group | Location | | Time | Group | Location |
| | | | | | | |
| 4:30PM – 5:00PM | 10A | Clubhouse | | 4:30PM – 5:00PM | 15A | Clubhouse |
| 5:00PM – 5:30PM | 10B | Clubhouse | | 5:00PM – 5:30PM | 15B | Clubhouse |
| 5:30PM – 6:00PM | 9C | Clubhouse | | 5:30PM – 6:00PM | 11A | Clubhouse |
| 6:00PM – 6:30PM | 9D | Clubhouse | | 6:00PM – 6:30PM | 11B | Clubhouse |
| 6:30PM – 7:00PM | 9E | Clubhouse | | 6:30PM – 7:00PM | 12A | Clubhouse |
| 7:00PM – 7:30PM | 13A | Clubhouse | | 7:00PM – 7:30PM | 12B | Clubhouse |
| 7:30PM – 8:00PM | 13B | Clubhouse | | 7:30PM – 8:00PM | 14A | Clubhouse |
| 8:00PM – 8:30PM | 13C | Clubhouse | | 8:00PM – 8:30PM | 14B | Clubhouse |
| 8:30PM – 9:00PM | Red Circles | Clubhouse | | 8:30PM – 9:00PM | Red Circles | Clubhouse |
| | | | | | | |
| 5:15PM – 7:00PM | 11A | Dome | | 5:15PM – 7:00PM | 10A | Dome |
| | 11B | Dome | | | 10B | Dome |
| | 12A | Dome | | | 9C | Dome |
| | 12B | Dome | | | 9D | Dome |
| | | | | | 9E | Dome |
| | | | | | | |
| 7:15PM – 8:45PM | 14A | Dome | | | | |
| | 14B | Dome | | 7:15PM – 8:45PM | 13A | Dome |
| | 15A | Dome | | | 13B | Dome |
| | 15B | Dome | | | 13C | Dome |
10A
10B
9C
9D
9E

Albers

Appert

 

 Dox

Giles

Anderson

Chamberlain

Barthelemy

Dombrovski

Graham

Darwitz

Dama

Bjornlie

Gerding

Howe

Finnegan

Drommer

Christianson

Giel

Johnson

Funk

Jacobson

Dorff

Hausauer

Kreyer

Gosso

K. Vanek

Flanagan

J. Lamey

Lunan

Jordan

Krieger

Fleming

Karkula

Malone

L. Hannahan

L. Vanek

Hammarstan

Mathiason

Marsh

Larson

Onken

J. Hannahan

Mauer

McAlpine

Romans

Peterson

Klepec

Mcmann

Richie

Rueber

Runk

Pletcher

Mueller

Salzmann

Schiltgen

Stoltenow

Rankin

S. Lamey

Swenson

Solorzano

Turnau

Schoenrock

Swanson

Tucci

Taylor

Zirbes

Weber

Wipperfurth

Vanelli

12A
12B
11A
11B

Antonello

Drommerhausen

Bjornlie

Barrios

Atkinson

Heuer

Chamberlain

Dustin

Barrett

Hofdahl

Dornan

Heinert

Batchelor

Hoffman

Gust

Hertz

Braun

Howe

Holbeck

Johnson

Caskey

Karlen

Irmen

Kunze

McGlynn

Lanz

Johnston

Lowe

McGlynn

Madison

Mehlhorn

Newman

Nye

Martens

Merthan

Schmidt

Rowan

Mauer

Onken

Volkmann

Runk

Olson

Stein

Walden

Sutter

Schoenecker

Ziemer

Zollar

Spates

Taverna

13A
13B
13C

Budion

Babcock

Chard

Eviota

Conlin

Coffey

Fleming

Edstrom

Dague

Gregg

Flynn

Finn

Hogendorf

Guarneri

Frascone

Liester

Kill

Hermann

Mazanec

Maddux

Korba

Peterson

Naatjes

Malinsky

Ryan

Nelson

Payne

Silbernagel

Quayle

Rickheim

Stanek

Schlichting

Tamburo

Tatroe

Toft

Von Behren

Whitehead

Wyland

Rupnow

Tollefsbol
P Johnson
15A
15B
14A
14B

Calderone

Butler

Adams

Braunhausen

Doughty

Dieterle

Foster

Dustin

Foote

Howe

Fredkove

Gilchrist

Hoheisel

Johnson

Funk

Kingbay

Jensen

Kramer

Karkula

Longway

Korba

Lundgren

Kieffer

Majikowski

Lanz

Robbins

Klepac

Oehlke

Rowan

Schlundt

McGlynn

Peterson

Schlichting

Schroeder

Nitti

Sample

Simpson

Stein

Rueber

Schuldt

Swenson

Then

Runk

Vanek

Verby

Weiand

Sullivan

Youn

Zurn

Wurst

Zollar
January 21, 2021
Our 2 dome workouts are coming up on Feb 19 and Feb 26.  These workouts are to help the boys get comfortable with being in the dome.   We will have nets and tees for hitting along with a pitching machine for fly balls to simulate tryout station.  We will set up 2 infields with bases for ground balls stations.   Each age group will run independently by the coordinator.   Per the State rules Masks will be required.  These workouts are completely optional.  Please arrive no sooner than 15 minutes before your start time.January 27, 2021
To even out the number of boys in the dome we will separate into 2 time slots.
5-6:30 and 7-8:30.
5:00 – 9's, 10's and 12's
7:00 – 11's, 13's, 14's and 15's
Any questions, please reach out to your son's coordinator:
Age Coordinators:
9's Appert/Runk
10's Appert
11's Drommerhausen
12's Runk
13's Stanek
14's Adams
15's Howe
January 13, 2021
Winter workouts have begun, if you are interested in participating and have not heard from a coach please contact your age group coordinator.  Remember you must be registered for tryouts to participate.
Age Group Coordinators:
9's – Mike Finnegan, 10's Luke Appert, 11's Scott Drommerhausen, 12's Aaron Runk, 13's Josh Stanek, 14's Brad Adams, 15's Matt Howe
2021 Season
Workout dates at Stillwater Dome are set for February 19th and 26th
Tryout dates at Stillwater Dome and Clubhouses are set for March 5th and March 12th (Times TBD)
Winter workouts will be with your summer teams from 2020, Clubhouse schedules will be available after Thanksgiving.
Fan gear or equipment may be ordered year round at   https://lakeelmo.gearupsports.net
Registration for the 2021 season will open January 1, 2021
PONY BASEBALL ACADEMY
For anyone looking to tune up their baseball skills please see the attached flyer for the 2021 Pony Baseball Academy.  The clinics run 4 Sundays starting Feb 7, all clinics take place at Stillwater High School. BaseballAcademy-2021 (1)
DAYBALL
Are you looking for an inexpensive way to work on your baseball skills and play a multitude of games during the summer? If so, Dayball is just what you are looking for. Dayball is an exciting program that allows your child the opportunity to develop their skills and understand the game of baseball at a higher level. You do not need to worry about the skill level of your child. All skill levels and abilities are welcomed.
For more information and to Register online:
https://sites.google.com/a/stillwaterschools.org/dayball/
A special Thank You to the Lake Elmo Jaycees for their continued support: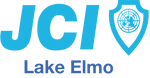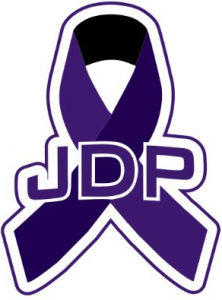 Hello,
As we get underway with another great season of Lake Elmo Baseball you will notice something a bit different this year with the uniforms.On the tryout shirts, hats and jerseys you will see a purple ribbon with the initials JDP.Hi, my name is Jay Pernu and the ribbon that you see is in honor of my son, Jayson David Pernu who passed away from an overdose on May 23, 2019.The purple ribbon signifies opioid awareness.While I realize that some of the athletes that try out and for and play in the Lake Elmo Baseball Organization are as young as 8-years-old, I truly believe that this is an important enough issue that all ages understand or are at least aware of the dangers of opioid addiction. 
Jayson began playing Lake Elmo Baseball in 2002.I am a member of the Lake Elmo Baseball Board and coached Jayson throughout his Lake Elmo Baseball "career".Jayson, continued on with baseball and pitched for the Stillwater Ponies during his junior year.He had a very successful season as did the Ponies qualifying for the State Tournament in 2010.In the off-season he injured his shoulder in a casual pick-up football game.He had surgery in the Winter of his senior year and was unable to pitch as a senior.It devastated him. 
Jayson went on to pitch for DCTC (Dakota County Technical College) the following year.He pitched very well but probably too much and experienced shoulder pain.This is where the downfall began.He began taking pain medications and was never the same person.I won't go into all of the details here but it was a long, hard journey for him and us as well.We didn't know for quite some time (years) that he had an opioid addiction. 
Tragically, Jayson's life ended at the age of 26.There are many, many more details to his story.Our purpose here is to give you some insight as to what the ribbon is all about.I thank all of the parents and players for wearing it, honoring Jayson, and bringing an awareness to this terrible disease during the upcoming baseball season.It means so much to our family to know that maybe we can make a difference for someone else.I would also like to thank the Lake Elmo Baseball Board for allowing this to happen.Although I am a member, it was the rest of the LEB Board that paved the way for this.We are forever thankful to them.
I pray as players and parents that you never have to go through this.Our goal as a family is to bring as much awareness and education as possible to this disease.I am more than willing to speak with anyone about this if you need advice or just want to learn more.We miss you Lefty.
Have a great season,
Jay Pernu